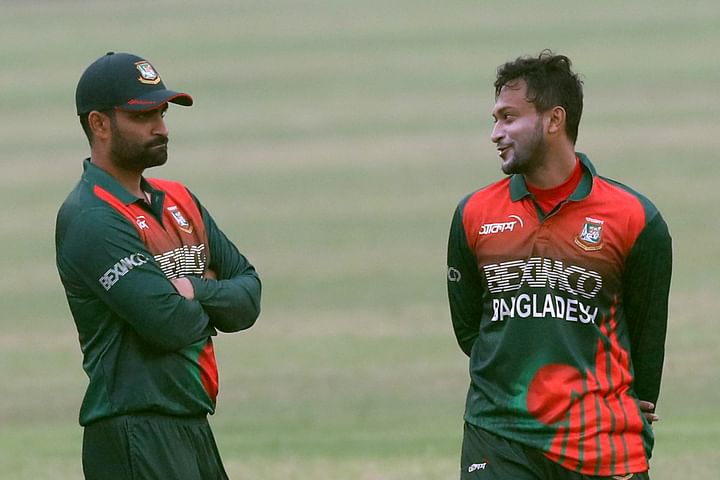 Shakib has also come out of Ranakhara with the Zimbabwe series. The left-arm all-rounder was signaling a return to rhythm in the short innings of 19 runs in the first match of the series. Shakib's unbeaten innings of 96 in the second ODI helped Bangladesh win the match even under pressure.
Shakib's 30-run innings in the third and final ODI of the series yesterday also had a touch of confidence. By improving his batting, Shakib has advanced three steps in the rankings, his position is now at number 28 in the rankings.
Bangladesh ODI captain Tamim Iqbal has also improved his batting. In the first match of the three-match series, Tamim was dismissed for a wicket. The big innings did not seem to catch. Finally, in the last match of the series yesterday, Tamim has taken a step forward with a great century of 112 runs, now he is at the 23rd position in the batsmen's rankings. In his innings, Bangladesh beat the host Zimbabwe by winning the last match of the series tomorrow.
There has been no change in the top five in the batsmen's rankings in ODIs. Babar Azam, Virat Kohli, Rohit Sharma, Ross Taylor and Aaron Finch are in the top five.
The ranking of ODI bowlers has changed. As always, Trent Bolt is at the top, but Bangladeshi spinner Mehedi Hasan Miraj, who came up in the top two a few days ago, is two steps behind.
Mirage did not take any wicket in the first match of the ODI series against Zimbabwe. Despite taking one wicket in the second match, the off-spinner could not play the last match due to a finger injury, which has affected the rankings. Mujib Ur Rahman is the second among the bowlers. Chris Oakes and Matt Henry are at number three and five respectively.