[ad_1]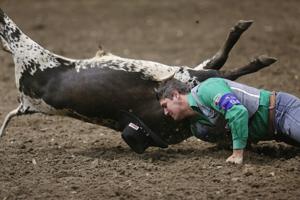 "(My dad) wasn't too happy about that, but he made it and he's happy," DeLeeuw said.
Attending his first CNFR, the Albertan-Texan cowboy is soaking it all in. The college finals have been everything he's imagined and more. Now, he's close to winning a steer wrestling national championship.
His closest competitor, the University of Wyoming's Chadron Coffield, trails him by 4.8 seconds.
Coffield posted the fourth-fastest time of the third go-round Wednesday, pinning his steer in 7.3 seconds, pushing him to second place with a three-run time of 23.7 seconds.
Riding a young horse named Moustache, Coffield noticed his horse was really nervous in the chute. The energy at the arena was a little too much for the green horse, causing a bad get-off.
Luckily, Moustache is one of the fastest horses Coffield has ever ridden, and Coffield's hazer, Cauy Pokorny of Laramie County Community College, aligned the steer perfectly for Coffield to recover.
Coffield glided off his horse and landed onto the steer, causing them to crash into Pokorny. They slid a few more feet until Coffield grabbed the steer by the horns and wrestled him down.
Somehow, Pacean DeLeeuw of Cisco College took the lead in the steer wrestling average here. #CNFR pic.twitter.com/Ge5Ap8HqIv

— Casper Star-Tribune rodeo (@CSTrodeo) June 17, 2021
"There's so much energy in the building," Coffield said. "When the fans go crazy and the music's playing, this is one of the loudest arenas that I've ever been at. It just fills you with energy, even if you try not to."
[ad_2]