This is the second shipment of ticker purchased from China. The government is buying 1.5 crore vaccines in three months from China's Sinofarm. According to him, on July 1, 20 lakh vaccines arrived in Bangladesh on two flights. And yesterday another 20 lakh vaccines came. China will send another 40 to 50 lakh vaccines next August.
According to senior Foreign Ministry officials, China has confirmed the uninterrupted supply of vaccines to Bangladesh.
Out of the purchase, China has given 11 lakh vaccines of Sinofarm as a two-stage gift to Bangladesh. Last May, China sent the first 500,000 gift vaccines made by Sinofarm to Bangladesh. Six lakh synoform vaccines from China's second batch arrived in the country in June.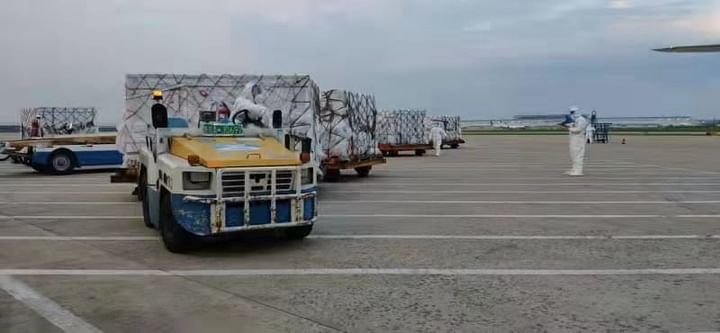 Another 3 million vaccines are coming to the country by Monday. The United States is providing 3 million vaccines through the global initiative CoVAX, which is made by Modern. It is expected that a total of 1 crore 29 lakh vaccines including these 30 lakh will come through Covax in the first week of September.
One million vaccines can be obtained from Russia. In all, at least 20 million doses of the vaccine may be available in the first week of September.
Concerned people have said that in order to continue the mass immunization program in the country, there is no need to fall into the vaccine crisis at present.
Bangladesh started mass vaccination program on February 8. The source of the vaccine was the Seram Institute of India. The mass immunization program in Bangladesh was disrupted after India stopped exporting vaccines last March. The first dose of vaccine was discontinued on April 25, and was introduced this month.
As the corona infection situation deteriorates in the country, people's interest in getting vaccinated is increasing. More than 15 million people have registered for vaccination till 2.30 pm yesterday.
According to the Department of Health, the first dose of vaccine has been given to 8 lakh 31 thousand 134 people and the second dose to 42 lakh 98 thousand 996 people till yesterday.
The government is now giving people aged 35 and over the opportunity to register for the vaccine. However, Health Minister Zahid Malek has expressed concern over giving the opportunity to all people aged 18 and above to register for the vaccine.